Two closed-loop schemes dominate the mobile wallet market:
Dominance of WeChat Pay and Alipay
Tencent's WeChat Pay and Ant Financial's Alipay dominate the mobile payments market in China. According to CGAP, together they account for 92% of market share. The two closed-loop schemes have successfully disintermediated cash and card payments in China.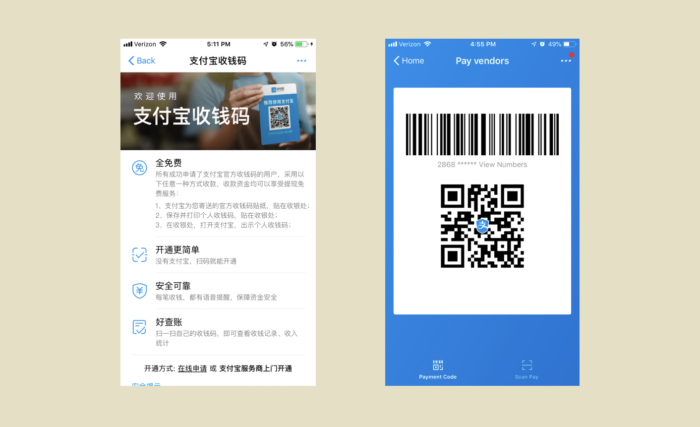 Dominance of WeChat Pay and Alipay
Tencent's WeChat Pay and Ant Financial's Alipay dominate the mobile payments market in China. According to CGAP, together they account for 92% of market share. The two closed-loop schemes have successfully dis-intermediated cash and card payments in China.
Strengths and Opportunities of Dominant Models
Strengths: Both WeChat Pay and Alipay likely benefit from their parent companies' 'super-app' model where purchases are made within the ecosystem of the platforms, which have gained massive user bases. Born from Tencent's social media products and Ant Financial's eCommerce marketplace, the two platforms now support payments and work in the same way. Payments are free to consumers and are either free or low cost for merchants. Payments are subsidized by other revenue streams enabled by the platforms: which support commerce and financial adjacencies. Both platforms have provided many additional financial services, including wealth management and loan products, to their users.
Opportunities: WeChat Pay and Alipay require connections to a bank account and benefit from smartphone ownership, limiting the value-add for low-income consumers who may not have these prerequisites. However, both bank account and smartphone penetration rates are expected to increase in the coming years.
Enabling Merchant Payments
An important development from WeChat Pay and Alipay is merchant acceptance of digital payments through QR-based schemes. Both services offer QR code acceptance methods to merchants. The systems are not interoperable, but it is common for stores to display both a WeChat Pay and an Alipay QR code. The pace at which these two companies added merchants represents a remarkable achievement. In 2016 Alipay claimed 600,000 brick-and-mortar merchants across China. By 2019 the number stands at 40 million brick-and-mortar merchants in China. WeChat Pay followed a similar trajectory.
Both Alipay and WeChat Pay achieved success in enabling merchant payments for a number of reasons, including low fees, a largely self-service onboarding process for small merchants, and availability of useful value-added services like SMB lending. Also, merchants across the spectrum use the mobile services to accept payments, from high-end restaurants to food carts, designer boutiques to street vendors, further promoting ubiquity.
The Role of the Regulators
While initially permissive and implementing little regulation, as Alipay and WeChat Pay grew and became instrumental to the payment system in China, the PBOC exercised more oversight and restraint. The People's Bank of China (PBOC) continues to try to retain supervision and oversight into the exchange of funds in China. Some recent approaches to do so, recognizing the dominance of WeChat Pay and Alipay, include:
Announced that all third-party payments companies must hold 100% of clients' cash deposits in non-interest-bearing accounts (Bloomberg)
Forced third-party payment providers to sever direct ties with banks and process transactions via a centralized platform called NetsUnion Clearing Corporation in order to gain greater insight into payment data. The platforms use this to fund wallet balances and in some cases individual transactions
Set rules for QR code payments, which set daily transaction limits for users based on their demand and risk prevention capacity; set technical requirements on QR code encryption, transaction verification, and information protection
Clarified that it is illegal for merchants to refuse cash, in China— a move likely intended to prevent Alipay and WeChat Pay from gaining close to total share of Chinese payment volume
The PBOC also made many interventions to improve financial inclusion including:
Required state-owned banks to open bank accounts for rural households, enabling G2P subsidy transfers (and use of other non-bank financial services) (CGAP)
Offered local bank branches incentives to provide rural areas with banking services (World Bank)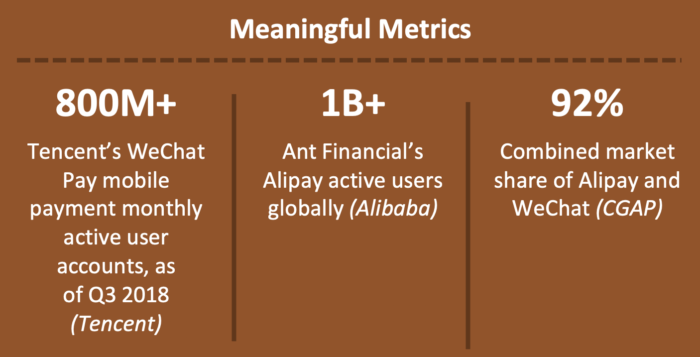 What to Watch?
Moving forward, it is worth paying attention to the following topics in the China market:
What additional new services and adjacencies (financial and non-financial) are offered by WeChat Pay and Alipay to end users?
How the PBOC regulates the two dominant providers to retain oversight, supervision, and economic control? Do the regulations negatively impact the operations of Alipay and WeChat Pay and their ability to digitize more transactions?
---
Next Topic in this Section: Commerce Platforms