Expanding and Connecting Markets: A Pan-Africa Payment Network
Payments within and across borders play a vital role in macroeconomic development as well as in poverty alleviation. A number of regional efforts in Africa are underway recognizing an opportunity to catalyze these developments. A pan-African vision may further build on regional successes.
Continental Integration Opportunities
A number of countries are working through existing trade agreements to facilitate regional payments integration in Africa, including the West African Economic and Monetary Union (WAEMU), the Southern African Development Community (SADC), the East African Community (EAC),
among others.
Pan-African low-value transfers are possible, building off the success of these regional deployments. Options to do so include:
Interoperating Regional Hubs. Interoperating across these regional hubs could be a cost-effective approach that leverages the successes of each regional effort
Creating a New Scheme. Creating one Pan-African hub for DFSPs to connect directly to for existing schemes to connect to is another potential alternative.
Regardless of the approach, a number of key questions need to be resolved to achieve pan-continental success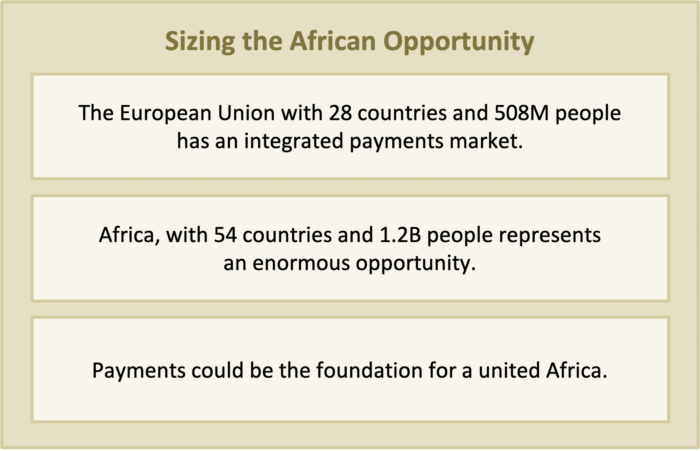 Key Questions and Challenges for Achieving Pan-African Success
Which factors underpin existing cross-border success? Which of these are most essential when looking to create a pan-African approach?
What assets or conditions are present that may promote integration? In what ways could Africa leap frog to achieve integration?
How realistic is an incremental approach to integration? If so, is there a required sequencing? What is minimum viable participation?
Which enabler(s), such as technology, are most likely to facilitate a pan-African vision?
What is the appropriate model for scheme governance?
What is the appropriate model for integration?
How can we manage sovereignty issues?
How can we harmonize regulations across participating countries?
What other operational difficulties can we expect to face?
---
Next Topic in this Section: Bridging Technical Market Gaps for RTRP Systems